Ivan Petrovszky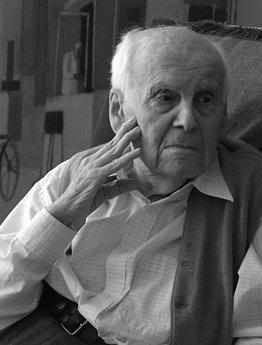 Born in Egkey, Hungary on March 9, 1913. He died in Caracas on April 2007.
Academic and Artistic Activities
Studies High school and university in Budapest, Hungary. His first painting studies are performed in Professor István Szonyi Academy.
He teaches painting and drawing at the School of Visual Arts "Cristóbal Rojas"
Solo Exhibits
1945 - Ateneo of Caracas, Caracas
1946 - Ateneo of Valencia, Valencia
1947 - Museum of Fine Arts, Caracas
1953 – Estilo Gallery , Madrid, Spain
1957 - Center of Fine Arts, Maracaibo
1958 - Gallery of Contemporary Art, Caracas
1959 – Museum of Fine Arts, Caracas
1962 - Ateneo of Valencia, Valencia
1962 – Mendoza Hall, Caracas
1965 – Mendoza Hall, Caracas
1965 - Universidad Central de Venezuela, Caracas
1966 - Marcos Castillo Gallery, Caracas
1969 - Inter-American Development Bank, Washington, DC, USA
1971 - BANAP Gallery, Caracas
1972 – Mendoza Hall, Caracas
1976 – Museum of Fine Arts, Caracas
1984 – Museum of Fine Arts, Caracas
1988 – Mendoza Hall, Caracas
1992 - Gala Art Gallery, Valencia
1993 - Center of Fine Arts, Maracaibo
1998 - Medicci Gallery, Caracas
1999 - Medicci Gallery, Caracas
2000 - Universidad de Carabobo, Valencia
2000 - Medicci Gallery, Caracas
Awards and Recognition
1936 - Honorable Mention "Sznnyei Merse" Budapest, Hungary
1941 - Rome Prize, Budapest, Hungary
1958 - Federico Brandt Award, Caracas
1958 - First Prize D'Empaire, Maracaibo
1958 - Grand First Prize "Arturo Michelena", Valencia
1959 - National Design Award and Engraving, Caracas
1960 - Gold Medal, National Photography Exhibition, Caracas
1961 - First Prize in Black and White, National Exhibition of Photography, Caracas, Venezuela
1961 - Antonio Edmundo Monsanto Award, Barquisimeto
1962 - Prize City, Valencia
1963 - Prize "John Boulton, Caracas
1964 - Prize Drawing, Maracay
1982 - Prize Drawing CONAC, Caracas
1985 - Award Armando Reveron, Living "Arturo Michelena" Valencia
1988 - First Prize Drawing 1 National Biennial of Fine Arts, Caracas
1988 - Prize Drawing Arts Western Hall, Barcelona
1990 - Award Armando Reveron, Living "Arturo Michelena", Valencia
1991 - Prize Drawing CONAC, Caracas
1992 - The Exhibition "Arturo Michelena" creates and grants Ivan Petrovszky First Prize for Drawing
1992 - The 6th National Drawing Exhibition pays tribute to Ivan Petrovszky with a room devoted entirely to his drawings
1995 - Grand First Prize "Arturo Michelena", Valencia
Represented by
National Art Gallery, Caracas
Museum of Fine Arts, Caracas
Museum of Contemporary Art of Caracas Sofia Imber, Caracas, Venezuela
Museum of Modern Art, Paris, France
Museum of Modern Art, Bogotá, Colombia
Irving Stone Collection, New York, USA
Medicci Gallery, Caracas, Venezuela
Presidential Residence of the Republic of Venezuela - La Casona, Caracas IVIC, Caracas